Preferred Materials
Eau Claire Roofing: Leak-proof Duro-Last heat-welded roofing and EPDM rubber for flat or low-sloped roofs. Metro metal and Owens Corning Shingles for pitched roofs.
We have the right materials for any job
Duro-Last:
For commercial roofs, Duro-Last offers leak-proof, durable protection, superior energy efficiency, and an excellent manufacturer's warranty. This heat-welded roofing system provides easy installation with low maintenance. For existing metal roofs, installing a Duro-Shield retrofit is easy. Because Duro-Shield has the flexibility to expand and contract with the temperature, it eliminates the risk of leaks. You'll appreciate Duro-Shield's cost-effective, long-term protection against precipitation, ice accumulation, and corrosion. Eau Claire Roofing is an authorized Duro-Last contractor, so ask us for more information today.
The Duro-Last vinyl roof membrane is a proprietary thermoplastic formulation consisting of PVC resins, plasticizers, stabilizers, biocides, flame retardants and U.V. absorbents. A weft-insertion knitted scrim that is laminated between two layers of PVC film gives the membrane its strength and durability. The Duro-Last single-ply membrane is available in white, gray, dark gray, tan, or terra cotta.
Our flexible roof membrane is easily prefabricated into deck sheets up to 2,500 square feet in size, as well as custom-made parapet, stack, and curb flashings that eliminate most labor from critical roof areas – transitions and changes of plane. Prefabrication provides architects, specifiers, consultants, contractors, and building owners peace of mind regarding the watertight security of the roof installation.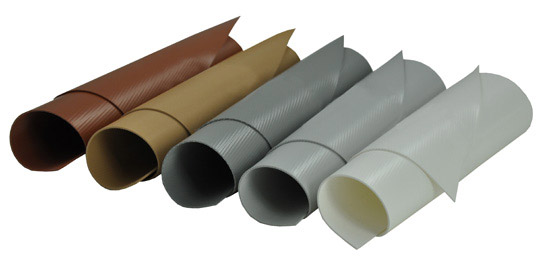 Read Duro-Last Case Studies / Testimonials
Visit Website
Owens Corning:
If you prefer asphalt shingles, Owens Corning is the best in the industry. Offering TruDefinition Duration shingles and TruDefinition Duration Designer Color shingles, Owens Corning has the right shingle to meet your needs and fit your budget. Whether your roof is large or small, with a roof slope that is slight, medium or steep, Owens Corning has a shingle designed to exceed your expectations. Plus, we offer a plentiful palette of colors to complement your existing color scheme. With warranties ranging from 20 years to a lifetime, Owens Corning gives you peace of mind with quality you can trust. Ask the friendly folks at Eau Claire Roofing to recommend the right shingles for your roof today.
For more information, visit the Owens Corning website.
Metro Stone-Coated Steel:
You'll love the beauty and performance of Metro Stone-Coated Steel. Strong enough to support walking on the roof, Metro is also designed to withstand 120 mph winds, Class-4 hail and Class-A fires. Providing excellent durability and low maintenance even in extreme conditions, Metro comes with a manufacturer's warranty. Enhance your home's value with stylish Metro shingles, shakes, or Roman or Mediterranean tiles. Each attractive style also comes with SMARTvents™, fully integrated ventilator panels to eliminate the need for flashing. Ask the helpful staff at Eau Claire Roofing if Metro metal roof products are right for you.
EPDM:
EPDM rubber provides an economical solution to your roofing needs. Meeting or exceeding the American Society for Testing and Materials performance standards, EPDM comes with the security of a manufacturer's warranty. Both reinforced and non-reinforced black EPDM are available in thicknesses of either .045 or .060. Reinforced EPDM contains polyester fabric to resist wear, tears, and punctures.
At Eau Claire roofing, we understand that each building requires a unique solution to its roofing needs. That's why we offer an array of materials from trusted manufacturers. You may depend on our experienced team to help you choose the right materials to keep you covered.
Additional Services:
Roof Vac Service - All Vac, Inc.
All Vac Inc. provides Commercial Roof Vacuuming Services throughout the Midwest. They remove and dispose of rock from ballasted and built-up roofs. They help speed up tear-offs, offer cleaner removal, and they reduce overhead and labor cost.